IAE
IAE Categories
IAE Products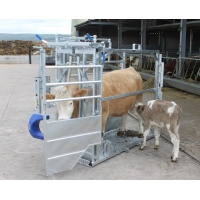 IAE Saracen Suckler Cattle Crush
- Flat floor to encourage easy suckler training side doors extended to meet flat floor- Two full height side doors on each side (hinged from each end) allow full access with no obstructions to the animal's flanks- Comes complete with a single removable rail each side which prevents the animal's body swinging out of the crush when both side doors are opened. This rail can be left in place/situ...
IAE Coupling Rod for IAE Cattle Hurdles
Walking stick type bar connects all hurdles to each other and to joining frames etc. Position of top lugs on hurdle enables coupling bar to eliminate potential leg trap between vertical end stiles of hurdles
IAE Standard 1525mm 6 Rail Cattle Hurdle
With box section vertical infills for additional strength Improved hurdle strength featuring 40mm x 20mm RHS bracing The position of the top drilled lugs prevent potential leg traps on all 6 Rail units 3050 mm long (10'0")
IAE 7 Rail Interlocking Sheep Hurdle
Loop type coupling arrangement970mm high 1220mm (4'0") or 1830mm (6'0") long NOTE:The intended use for interlocking sheep hurdles is to form large holding pens or small individual pens. If used for long single runs of lambing pens or back to back lambing pens some joints will need to be cable tied together.