Our website shows a selection of the products available in our stores. Visit our Country Stores in Axminster, Crediton and Okehampton for the full range.
Stanley Jumbo Tool Box & Tray 19"
The Jumbo organiser tool box is ideal for transporting and storing multiple tools and has 2 removable organisers for storing small parts.
Stanley Saw Storage Mitre Box
All in one, easy-to-use mitre box. 90°, 45° and 22.5° slots. 300mm length with a patented storage system for the saw. Length 300mm.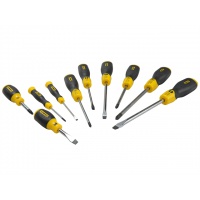 Stanley Screwdriver Set 10 Pieces
The Stanley Cushion Grip screwdrivers with a chrome plated bar which is corrosion resistant, and magnetic tips for easy pick up and screw locator. The soft-grip handle provides excellent torque and comfort. It has a smooth domed end for fast spinning action, speed and comfort, and the large diameter handle offers greater torque which is needed for driving wood screws. Screw tip identification is shown...