Nicky Elite Soft Touch Toilet Tissue 40 Rolls
Nicky Soft Touch is a silky smooth 2 ply toilet tissue which gives great quality at a fantastic value for money. With a unique diamond emboss. Pack size: 40 (10x4 packs). Single packs not available. Please note image is of the 12 pack toilet tissue which is not available.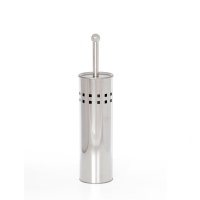 Stainless Steel Toilet Brush and Holder
Keep your bathroom looking clean and tidy with Sabichi. With a retro squares design and a mirror finish, this toilet brush will give your bathroom a modern look and feel.