Pure Pastures
Pure Pastures operate from their family run farm in the village of Manningford Bruce and with over 3 generations of experience in making hay and straw, provide a high quality range of pet bedding products at an affordable price.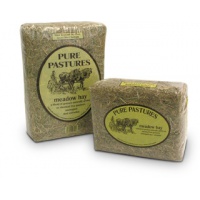 Pure Pastures Meadow Hay 4kg
Unchopped and dust extracted, green and full of nutrition, grown in the Vale of Pewsey. Free from artificial fertilisers and sprays, blended with various types of hay ensuring a consistently high quality product.
Pure Pastures Wood Shavings 3.2kg
These fresh soft woodshavings go through a dust extraction process removing unwanted sawdust in order to protect the delicate respiratory systems of small animals. This highly absorbent bedding allows for the safe nesting and burrowing of pets.