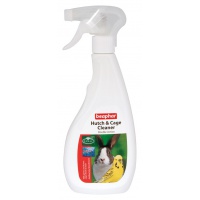 Antibacterial Hutch and Cage Cleaner 500ml
Beaphar Hutch & Cage Cleaner is a highly effective DOUBLE ACTION formulation that both cleans and disinfects your pet's home. As a cleaner it will help remove dirt and soiling which harbour germs. As a disinfectant it will tackle those germs that cause disease and infection. It will leave your pet's hutch or cage clean, healthy and smelling fresh.
Drinking Bottle For Small Animals 600ml
Classic water bottles help keep water clean and healthy; they are shatter resistant in cold weather with an anti-rust stainless steel spout with twin ball, non leak design which helps mimc natural feeding. The 'large' 600ml bottle is suitable for rabbits, guinea pigs, parrots, pigeons and other small animals.