Dreamies 60g (Various Flavours Available)
Dreamies are a range of cat treats that your cat will crave.These irresistible treats are little crunchy squares filled with delicious soft centres that cats dream about.Just shake the Dreamies pouch and watch your cat come running!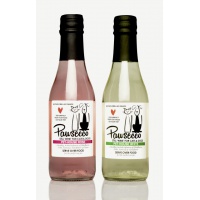 Pawsecco for Cats & Dogs
Good friends bring happiness, but best friends bring Pawsecco! Providing the purrfect treat for those on four feet, owners can now share the experience in 'raising a glass' with their four-legged best friends - and it's healthy too!Available in both 'Pet-House White' and 'Pet-House Rose' Pawsecco has been created with the advice of veterinary experts and taste-tested...
Whiskas Temptations Seafood 60g
Whiskas Temptations Seafood are delicious Cat treats with soft and smooth savoury centres in a crunchy shell. Whiskas Temptations Seafood are foil packed for freshness so each treat is as irresistable as the first. Ingredients: Vegetable Protein Extracts, Cereals, Oils and Fats, Meat and Animal Derivatives, Minerals, Fish and Fish Derivatives (min. 4% Seafood), Milk and Milk Derivatives, Derivatives...