---
FLUBENVET POULTRY WORMER 60G@
Specifically developed as an in-feed wormer for the domestic poultry keeper, it is designed to medicate 20kg of feed, which is enough to treat approximately twenty chickens over the seven day treatment period. A zero withdrawal period means that the eggs can be consumed during and immediately after treatment.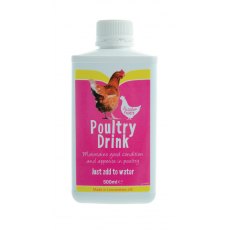 POULTRY SHIELD CONC 1L
This multi-purpose cleaner sanitiser has a low odour formulation and is suitable for cleaning livestock housing and equipment. It can be used in organic production systems and will eliminate all organic matter, including parasites such as red mite. It is biodegradable, does not contain poisons and is effective against bio-films.