---
CALCIJECT 20 CMD NO6 400ML
Contains Calcium Borogluconate 20% w/v, Magnesium Hypophosphite Hexahydrate 5% w/v and Glucose Monohydrate 22% w/v. For the treatment of hypocalcaemia complicated by deficiency of magnesium with accompanying hypoglycaemia in sheep. In the treatment of pregnancy, toxaemia and other metabolic imbalances in periparturient sheep.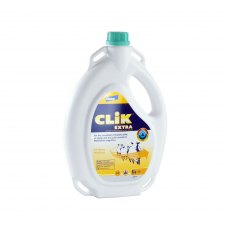 CLIK EXTRA 2.2L
Insect growth regulator pour-on for season long prevention of blowfly strike on sheep and lambs. Correctly applied protection will last for sixteen weeks. A water-based, ready to use, pour-on formulation, containing 5% w/v dicyclanil.
---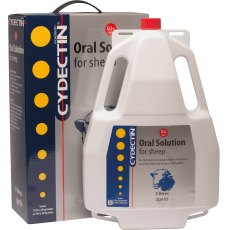 CYDECTIN DRENCH 5L SHEEP
For the treatment and control of gastro-intestinal roundworms and lungworm of sheep. A translucent, yellowish, slightly viscous solution containing 1gm moxidectin per litre.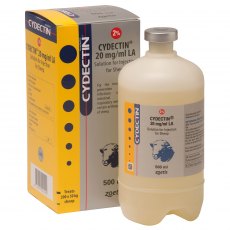 CYDECTIN LA INJECTION 50ML SHEEP
The only product to treat scab and worms with a single injection and with persistency against worms for up to 111 days and against scab for up to 60 days. Do not use in dairy sheep, at any stage of life. Do not use in sheep less than 15kg bodyweight. A clear yellow liquid containing moxidectin 20mg/ml as an active substance.
---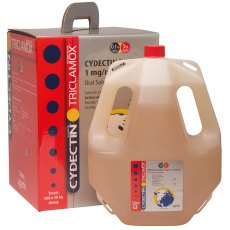 CYDECTIN TRICLAMOX SHEEP 1L
For the treatment of mixed nematode and fluke infections in sheep. A clear yellow to brown liquid containing 1mg moxidectin and 50mg triclabendazole per litre.
DECTOMAX 5L POUR ON
The only one shot treatment for worms and scab. It is a highly active, broad-spectrum endectocide for parenteral administration to cattle and sheep. A ready to use, colourless to pale yellow, sterile solution containing 1% w/v doramectin (10mg/ml).
---
LEVAFAS DIAMOND 2.5L
Levafas Diamond is a broad spectrum anthelmintic for use in the treatment and control of both gastro-intestinal and pulmonary nematode infections and adult liver fluke infections in cattle and sheep only. Levafas Diamond should be used in cases of parasitic gastroenteritis and lungworm disease caused by mature and developing immature forms of those organisms sensitive to treatment with levamisole...
VECOXAN 5L
For the treatment and prevention of coccidial infections in lambs and calves. White aqueous oral suspension containing diclazuril 0.25% w/v.
---
ZANIL FLUKE DRENCH 5L
For the treatment and control of chronic fascioliasis in cattle and sheep. Removes practically all flukes present in the bile ducts of the liver. Smooth off white pourable oral suspension containing 3.4% w/v oxyclozanide (34mg/ml). .