---
Nibbed Peanuts 12.75kg
Direct from our growers & packed at source for freshness. Our nibbed peanuts are grown in mineral rich soils producing consistent best quality peanuts high in natural oils, protein & fibre, helping to keep your garden birds fit & healthy all year round. All peanuts in our range are tested for aflatoxin. Chirpy peanuts have been carefully selected for your garden birds.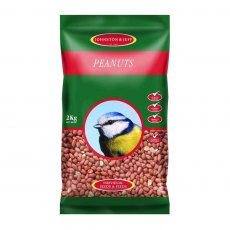 Johnson & Jeff Peanuts 2kg
Peanuts are high in oils, proteins and energy, making them an invaluable and digestible food source. All of our Peanuts are tested for mould and aspergillus spores before entering our production. Please remember to always feed whole peanuts from a mesh feeder, as large pieces can be harmful to small birds and fledglings. That is why we use Peanut Granules within our wild bird blends and don't...
---
---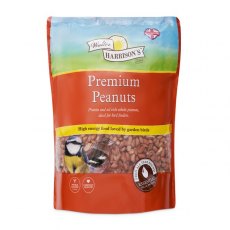 Premium Peanuts Pouch 4kg
Walter Harrison's premium peanuts. High in energy, protein and oils. Certified Aflatoxin safe. Attracts a variety of garden birds. Peanuts should only be fed from a specialised wire Peanut feeder so birds can't pick and choke on whole peanuts. Comes in a convenient pouch for easy storage.