Our website shows a selection of the products available in our stores. Visit our Country Stores in Axminster, Crediton and Okehampton for the full range.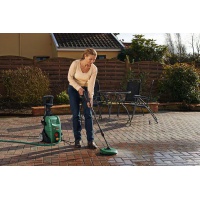 Bosch Pressure Washer AQT3400+
Quick connect SDS fittings: ready to go, no assembly required. Versatility: comes complete with several accessories - stored within the machine for convenience. Energy efficient: self-priming function can draw water from water butts and the auto-stop system delivers power only when needed. Easy-fold handle and sturdy wheel design Quick-connect SDS fittings Integrated accessory storage Suction...