Grubs Boots
All GRUBS® boots are 100% waterproof keeping feet warm, dry, and protected in harsh weather and messy working conditions. The secret – our exclusive self-insulating waterproof Insu-foam Ultra™ shell construction. The Insu-foam Ultra™ bootie material acts as a "neutral medium" between inside and outside temperatures. Naturally lightweight, buoyant, and very comfortable, the material keeps the foot and lower leg warm and protected in cold and wet conditions.
Grubs Boots Categories
Grubs Boots Products
Grubs Midline Wellington Boots
The Grubs Midline Moss Green Half Height Bootis a perfect compromise of the comfort and durability of a quality wellington boot whilst being much more useful when bending down. As with the entire Grubs Boot range, the Midline provides you with a waterproof and insulated boot which will insulate your toes on even the chilliest of wintery days right down to -10C. This outdoor boot is a high performance...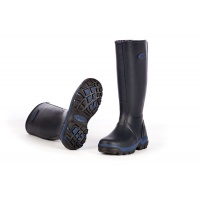 Grubs Rainline Wellington Boots - Navy
The RAIN LINE is an excellent high, round boot. She has a TRAX sole which makes for a better grip and provides excellent stability on the waterfront. They consist of a rubber foot (with the reinforcement at the level of the teentop, Achilles tendon, and tibia), a shaft in chloroprene and a jersey lining of 5.0 mm thick, which means thatthe boot is suitable for prolonged periods of time in temperatures...