Tractor Ted
Tractor Ted is a lovable children's story character who captivates, entertains and then educates with his exciting kids' stories of farm adventures. He does this in both Book and DVD formats using wonderful real life photographs and film.

Ted will introduce them to lots of valuable knowledge about Animals, Seasons, Machines and Foods all in the context of highly engaging stories in picture books, DVD films, songs on CD and even fun and educational Animal and Tractor Games.
Tractor Ted Categories
Tractor Ted Products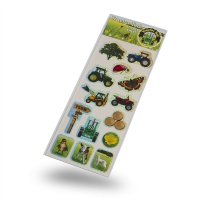 Tractor Ted Farm Stickers
For the very first time Tractor Ted brings you these eye catching farm stickers. Create your very own farming scenes with these wonderful stickers. Very easy to peel off for little hands!